By Radhamadhava Das, first published on Dandavats.com.
Everyday, ISKCON devotees around the world sing the song, "Jaya Radha-Madhava" before the Srimad Bhagavatam class. It is also sung in most Gaudiya Math temples — generally during the time of the Raj-bhog-arati. His Divine Grace A. C. Bhaktivedanta Swami Prabhupada Prabhupada was especially fond of this song, which expresses the sweet mood of worship of Vrindavan. Yet how many people know about the Radha-Madhava Deities for whom Srila BhaktivinodeThakur wrote this wonderful song?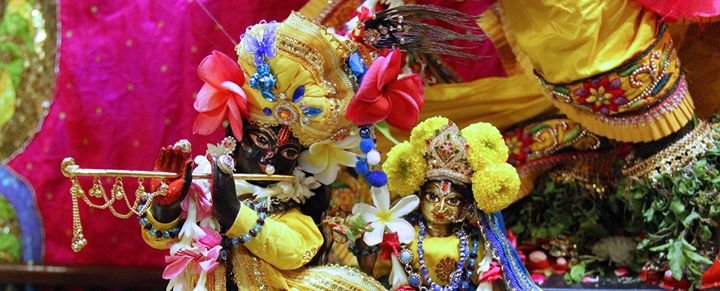 For the last 14 years Sri Sri Radha-Madhava, the original family deities of Srila Bhaktivinode Thakur have been residing for the month of Kartika on the altar of Radha-Syamasundara in the Vrindavan ISKCON Krishna-Balaram temple. Present there again this year; hundreds of eager devotees are daily crowding up near the altar to offer flower-garlands and to be able to get a closer darshan of Their Lordships.
Mukunda Datta, Guru Kripa Das and wife, and Radha Madhava Das joyously carry Radha Madhava into the Krishna Balaram Mandir in VrindavanMukunda Datta, Guru Kripa Das and wife, and Radha Madhava Das joyously carry Radha Madhava into the Krishna Balaram Mandir in Vrindavan
During the rest of the year, Sri-Sri Radha-Madhava reside near Choti, a beautiful village in rural Orissa, where They used to be served in the house of Srila Bhaktivinode Thakur, Srila Bhaktisiddhanta Saraswati Prabhupad and their family members. Five hundred years ago, Sri Krishnananda Datta, a disciple of Lord Nityananda who chanted three lakhs of Harinam daily,was worshipping Them, and then Their seva was passed down in family tradition.In his autobiography, Srila Bhaktivinode Thakur wrote, "In Choti Mangalpur we have six or seven thached houses. Thakur Radha-Madhava and Jagannatha were worshiped in one of these houses."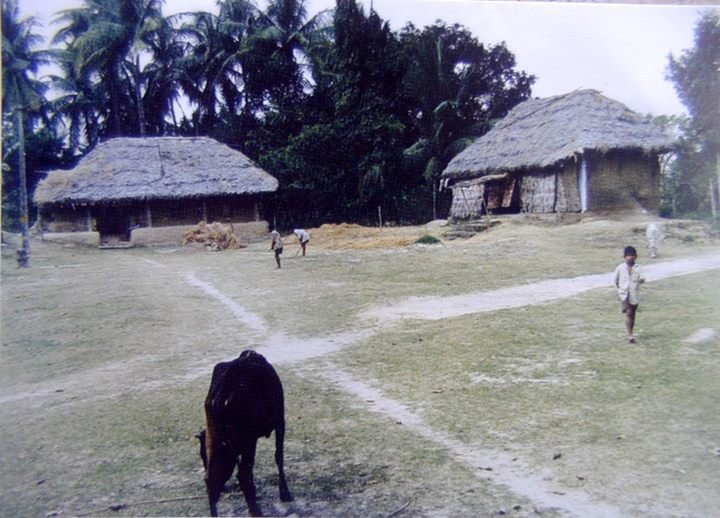 Bhaktivinode Thakur's home in Choti OrissaBhaktivinode Thakur's home in Choti Orissa
As described elaborately in the Back to Godhead magazine (May/June 2001), Sri-Sri Radha-Madhava were believed lost by the locals. But after twenty years of painstaking research, They were rediscovered in 2000 by Dr. Fakir Mohan Das, a Vaishnava research scholar and retired professor of Utkal University. Their land in Choti is still registered in the name of Bimal Prasad Dutta (the legal name of Srila Bhaktisiddhanta Saraswati Prabhupad). Unknown to many devotees, Choti is the native land of two of our great predecessor acaryas, Srila Thakur Bhaktivinode and Srila Bhaktisiddhanta Saraswati Thakur Prabhupada. At present, the service of Sri-Sri Radha-Madhava is maintained by a trust headed by H. H. Indradyumna Maharaj.
Sri-Sri Radha-Madhava will be giving darshan in the Krishna-Balaram temple until Rasa Purnima on the sixth of November
For more information see:
http://www.chhotiradhamadhava.com/web/